5 Days of Healthy Dinner Ideas
Easy to make recipes using wholesome ingredients, and many can be modified to fit dietary needs. EACH RECIPE INCLUDES A GROCERY LIST!
---
AFFILIATE DISCLAIMER:
Please note that some of the links on my website are affiliate links. Meaning, I receive a commission if you decide to purchase through my links at no extra cost to you! The product links at the bottom of my posts are products I've used and recommend.
---
Day 1-
Tex-Mex Slow Cooker Casserole
Delicious, simple, and healthy, this slow cooker casserole is for all the meat and potato lovers.
Check out this recipe
Grocery items for tex-mex slow cooker casserole:
1 lb ground turkey or beef
Small yellow onion (1/2 cup)
Garlic cloves (2)
Green or red bell pepper (1)
Baby petite red potatoes (1 lb)
Fire roasted corn (15oz can)
Red kidney beans (14.5oz can)
Fire roasted tomatoes (14.5oz can)
Low sodium beef broth (1/2 cup) I use better than bouillon roasted beef base
Reduced-fat colby jack shredded cheese (1 cup)
Fresh cilantro (topping)
Avocado (topping)
Sour cream (topping)
Pantry items:
Chili powder
Chipotle chili powder
Salt and pepper
Day 2-
Chicken Bacon Ranch Casserole – Savory Tooth
Here's a crazy good recipe on how to make chicken bacon ranch casserole with broccoli! This is a low carb and keto friendly bake, where you can use leftover or storebought ingredients to simplify the recipe however you like. You can also prepare this casserole the day before to save time.
Check out this recipe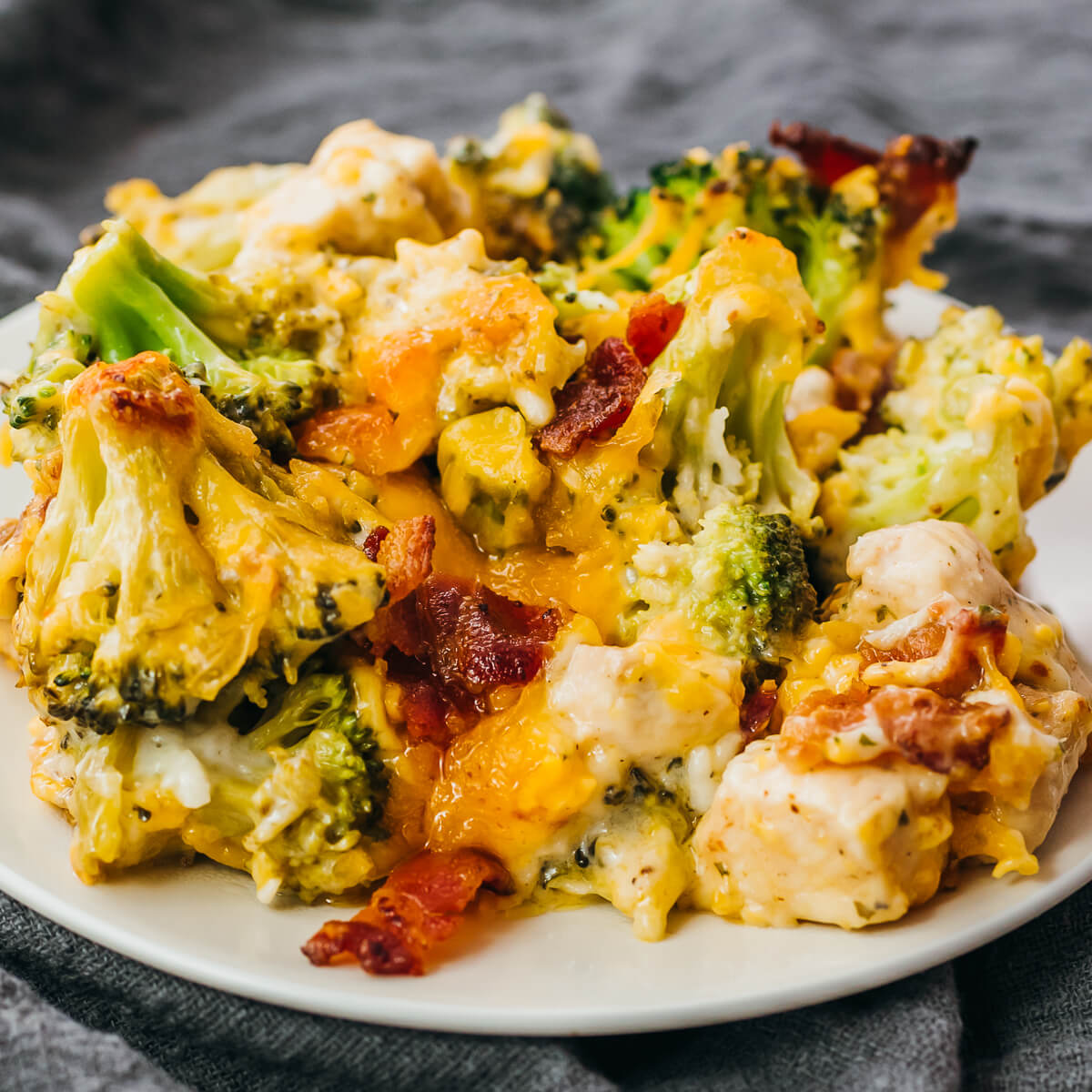 Grocery items for Chicken bacon ranch casserole:
Boneless skinless chicken breasts (1.5 lbs)
Bacon (8 strips)
Broccoli florets (10 cups)
Shredded cheddar cheese (2 cups)
Shredded mozzarella cheese (1 cup)
Ranch seasoning mix (1 packet)
Day 3-
Sheet Pan Nachos with Avocado Salsa Verde
Every chip topped with the perfect amount of goodies, and a generous helping of creamy Avocado Salsa, makes this fast supper a winner!
Check out this recipe
Grocery items for sheet pan nachos with avocado salsa:
Tortilla chips (5 cups)
Lean ground turkey (1/2 lb)
Black beans (14oz can)
Sliced black olives (2.5oz can)
Tomato (1 large)
Red onion (1/4 cup)
Low-fat shredded Mexican cheese (1 1/2 cups)
Avocado (1 large)
Chunky salsa verde (1/2 cup)
Lime (1)
Cilantro (topping)
Pantry items:
Olive oil
Chili powder
Ground cumin
Dried oregano
Garlic powder
Salt and pepper
Day 4-
20-Minute Caprese Chicken
Chicken Breasts grilled with a simple balsamic glaze and topped with mozzarella cheese, fresh tomato slices and basil. This 20-Minute Caprese Chicken is perfect any night of the week and your family is sure to love it!
Check out this recipe
Grocery items for 20-minute caprese chicken:
Fresh basil (2 tbsp)
Garlic cloves (2)
Chicken cutlets (4) or large chicken breasts sliced in half horizontally
Sliced mozzarella cheese (4)
Tomatoes (2 medium)
Pantry items:
Olive oil
Italian seasoning
Salt and pepper
Day 5-
The Most Delicious Vegetarian Tacos with Creamy Slaw
Toasty taco shells filled with warm spicy quinoa, topped with a simple creamy slaw…. Oh my goodness! Num Num!
Check out this recipe
Grocery items for Vegetarian tacos with creamy slaw:
Yellow onion (1/2 cup)
Organic quinoa (1 cup dry)
Low sodium vegetable stock (2 cups) I use better than bouillon vegetable base
Low sodium black beans (1 14oz can)
Frozen corn (9oz bag) I use Green Giant honey & roasted corn with peppers
Lime (2)
Hard taco shells (10-12)
Shredded multi-colored cabbage mix (4 cups)
Cilantro (1/4 cup)
Red onion ( 2 tbsp)
Light sour cream (1/4 cup)
Pantry items:
Olive oil
Chili powder
Ground cumin
Paprika
Garlic powder
Tomato paste
Salt and pepper
Most Recent Posts:
My favorite meal planners:
---
---